EVgo has developed a new whitepaper that discusses the key ingredients necessary to accelerate widespread adoption of electric vehicles, with a detailed analysis of the full costs and benefits of installing and operating a reliable and convenient public fast charging network.

Download the full paper today.
THE COSTS OF EV FAST CHARGING INFRASTRUCTURE AND ECONOMIC BENEFITS TO RAPID SCALE-UP (2020)
EVgo has developed a package of whitepapers, "Best Practices for Electric Vehicle Market Transformation," designed for policymakers, utilities and other allies in transportation electrification.

Download the full set of whitepapers or continue reading below for more information on EVgo's views on Rates, Infrastructure Investment Program Design, Utility Partnerships, and Interconnection.
BEST PRACTICES FOR ELECTRIC VEHICLE MARKET TRANSFORMATION (2019)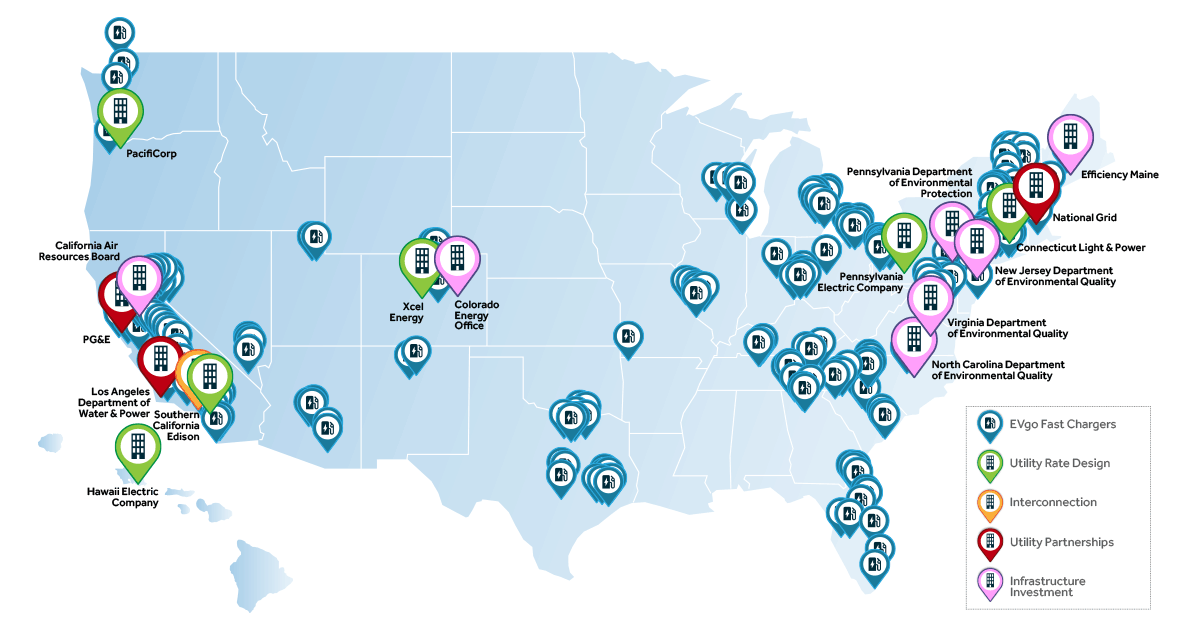 "I love you guys and I think your prices are fair! I save $14 a day over gas thanks to you guys!! Keep up the good work and please, please, please build more DCFC stations!!" – EVgo Customer

As EVgo has expanded our network to more than 1,200 electric vehicle (EV) fast chargers across 34 states and 66 metropolitan markets, we have found utilities and regulators eager to work with us on rate design because they appreciate the "beneficial electrification" effect of incremental load. Ratepayers realize the savings, and EVgo's customers appreciate the convenient, reliable, and affordable opportunities to fast charge their electric vehicles in locations convenient to where their live, shop, and work.

As rate design for home and workplace EV chargers is becoming familiar to many regulators, we are seeing growing interest in how DC Fast Charging ("DCFC") specific rates can expedite EV adoption, drive beneficial electrification that maximizes the grid benefits of EV charging and reaches new populations. Level 2 chargers provide inexpensive, gradual development of access to infrastructure on a "one car, one charger" basis. In contrast, DCFC investments vastly expand charging access on a "one charger, one neighborhood" basis. Some use cases, e.g. electric rideshare and carshare, simply can't exist without robust DCFC infrastructure. Where we have the best designed rates, consumers experience the benefit of lower pricing.

We're working with regulators and utilities to accelerate EV infrastructure using best practices based on sound ratemaking principles.

Click here for our recommendations on Rates.

"We brought in EVgo chargers because our customers care deeply for the planet and demand the cutting edge in environmental technology. It's gratifying to see that the stations are being used. It's good for us, good for the planet, and great that our customers can get a fast charge and be on their way."- Tristam Coffin, Director of Sustainability & Facilities, Whole Foods Market

Over the next two years, more funds will be invested in U.S. electric vehicle (EV) infrastructure than ever before. EVgo works closely with utilities and regulators to maximize the impact of this enormous opportunity to build infrastructure that enables acceleration of transportation electrification to meet the appetite and needs of American drivers, automakers, and site hosts – like grocery stores, hotels, parking lot operators, and other retailers and local businesses.

EVgo is a first mover and "first learner" in infrastructure program design. As we have expanded our network to more than 1,200 DC fast chargers (DCFC) across 34 states and 66 metro areas, we have monitored every proceeding allocating VW Dieselgate "Appendix D" funding, and we have participated in many DCFC infrastructure program design discussions. Our team also brings significant lessons learned from other fields including solar and smart grid deployments. Across the country, fund administrators tell us that they want to use these lessons to accelerate EV investment for statewide access while maximizing the impact of both public and private funding.

Click here for our recommendations on Infrastructure Investment Program Design.

INFRASTRUCTURE INVESTMENT PROGRAM DESIGN
"The chargers are always in working condition, and typically near a store or restaurant so that I don't have to sit & wait in my car in the 100+ degree weather here in AZ." – EVgo Customer

As EVgo has expanded our network to more than 1,200 electric vehicle (EV) DC fast chargers (DCFC) across 34 states and 66 metro markets, we have found utilities and regulators eager to work with us to improve EV drivers' confidence in fast charging availability. We believe that utilities should have a strong role in the facilitation and acceleration of a charging market ultimately led by a competitive private sector. Through private sector deployments, utilities benefit by receiving more load, more quickly, from more efficient processes. The resulting increase in sales volume benefits all ratepayers. Working with regulators and utilities in 34 states, EVgo has collected a set of utility best practices that allows the regulated utility to best support the public-private investment partnership now ramping up nationwide to allocate the Volkswagen Dieselgate Settlement.

We're working with utilities and regulators to drive significant near-term acceleration of transportation electrification, by making sure utilities and private developers each bring their experience to the table.

Click here for our recommendations on Utility Partnerships.

"Your charging stations are never down, at least not in my experience. My only suggestion would be more of them." – EVgo Customer

As EVgo has expanded our network to more than 1,200 electric vehicle (EV) DC fast chargers (DCFC) across 34 states and 66 metro markets, we have found utilities and regulators eager to work with us on growing the EV market by streamlining the interconnection process.

That means we've been able to work with utilities to improve our processes collaboratively. Together we've both seen more DCFC revenue and load, faster. In all cases we have safely integrated into the grid and into efficient system planning.

In a simple program implementation with strong transparency and engagement by permitting authorities and utilities, an experienced private sector fast charging infrastructure developer can complete the development, permitting, and installation of a DCFC in about a year. However, in some cases, construction of the utility service can take far longer. However, EVgo has experienced utility service completions in as little as 90 business days after key utility process improvements. Interconnection acceleration offers thousands of dollars per month, per charger, of revenue opportunity for utilities – dramatic returns for straightforward process changes.

Not just time, but resources can be saved as well; when charging developers have the necessary means to investigate utility service themselves, utility engineering teams can focus their time accelerating construction and commissioning rather than responding to volumes of site assessment requests.

Finally, the grid can benefit from new thinking. Most DCFC developers have geographic preferences that are far more flexible than typical new service customers – they may be seeking new fast charging sites in a neighborhood or among a retail partner's locations across a region. Free flow of information on the infrastructure available across options could drive charging to under-used parts of the grid.

We're working with utilities to decrease time to revenue and staff demands by sharing information, committing to transparency and process, and leveraging existing resources.

Click here for our recommendations on Interconnection.

Copyright © 2020 EVgo Services LLC. All Rights Reserved